At Pro Smile Dental Care in Danville, we are experts in dental crowns. Dental crowns are used to repair many forms of tooth damage and decay. When a tooth has had too many fillings that have damaged the tooth beyond repair, a crown may be required. We are available to consult with you and help determine when a dental crown is needed.
Why Are Dental Crowns Used?
A crown is often the best way to prevent further damage if a tooth becomes cracked or broken. Sometimes a tooth will have a cavity so large that filling it is not possible without severely weakening the tooth.
If you need a bridge to replace missing teeth a crown may be required to support the bridge. At Pro Smile Dental Care we are here to help you decide if a crown is the best choice for your situation.
How Is A Dental Crown Applied?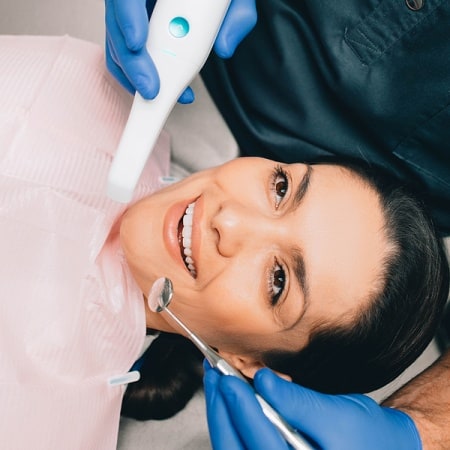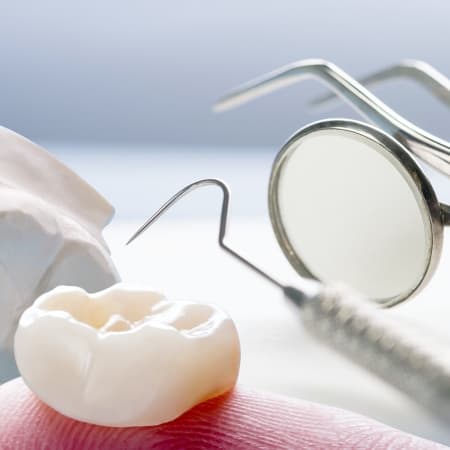 At your first visit we will x-ray the damaged tooth and then using the latest in dental technology we scan your tooth using the CEREC procedure. The next step is to prepare the remaining portion of tooth for the crown.
We then customize the color and characterization of the crown to match the adjacent tooth perfectly.  You will leave the office with the permanent crown in one sitting.
Porcelain For Double The Strength
Dental crowns can be made of several different materials. The location of the crown will help us determine our recommendation to you. In the old days, dentists would recommend metal crowns for back teeth, as it is a stronger material. Not anymore.
The porcelain used for CEREC is double the strength of transitional porcelain and does very well on back teeth.
Dental Crowns In Danville
Teeth that are visible are often constructed from porcelain since they can match your natural tooth color. Our dental team will help you decide whether a porcelain, metal, or porcelain-metal combination is best for your crown.
If you are in need of dental crowns in Danville or the surrounding areas, we at Pro Smile Dental Care would love to be your dental family. Working together, we will give you the beautiful smile you deserve!