If you have been considering Invisalign for straighter teeth and a better smile, let Pro Smile Dental Care in Danville help you. We offer this convenient alternative to traditional orthodontics.
Clear Aligners, Straighter Teeth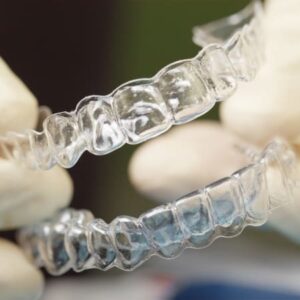 With Invisalign, you will wear a series of transparent polyurethane aligners that snap over your teeth. Unlike metal braces, these aligners are virtually invisible. They are also removable. While you will need to wear the aligners for 22 hours every day, you will have the ability to remove them and to clean your teeth.
How Does Invisalign Work?
The transparent aligners are part of a system that is custom-designed to straighten your teeth. Our dentists work with you to develop a treatment plan so you can have the smile you deserve. 
First, Dr. Anthony Nguyen, DDS will take digital impressions of your teeth.
He then works with Invisalign to design the alignment of your smile.
After the design process, you will receive a series of clear aligners.
More Comfortable Than Metal Braces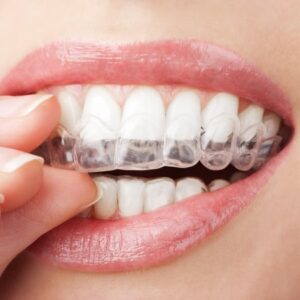 When you wear the aligners on your teeth (clear braces), you will find that they exert force on your teeth to straighten them, but they are gentler and more comfortable than metal braces. Every 10 days, you will graduate to the next aligner as your teeth progress in becoming straighter.
Since the aligners can be removed, they have a decided advantage over metal braces, which cannot be removed for cleaning. 
Side Effects Of Metal Braces
Our dentists recommend these clear braces as a healthy alternative to metal braces because of the following:
Extra Cleaning- Trapped food can cause build up of plaque and bacteria
Gum Disease- Difficulty in flossing can increase the risk of gum disease
Life Style- Metal Braces pose a risk with certain contact sports. With Invisalign, one can remove the aligners when necessary as opposed to the traditional braces.
In some cases, Invisalign will not be a viable option. Our office will complete your evaluation and provide you with an orthodontist referral as needed.
The Treatment Process
Our dentists will use a scanner such as the iTero® digital scanning system to create fast, precise 3D digital images of your teeth. (Some doctors will take physical impressions.)
Then we will map out a precise treatment plan, including the exact movements of your teeth and how long your treatment will be. You'll even get to see how your teeth will move and preview your new smile.
Virtually Invisible Teeth Straightening
Your custom-made aligners will be made from Invisalign's proprietary SmartTrack® material. They're virtually invisible, so most people won't even notice you're wearing them.
Wear your Invisalign clear aligners 20 to 22 hours a day for the best results, taking them out to eat and to brush and floss.
You Get To See Your Progress
As you wear each set of aligners, your teeth will gently and gradually shift into place. Your doctor may recommend that you begin wearing a new set of aligners every week and schedule check-ups every six weeks or so.
At every stage you'll be able to see your progress and imagine how far your new smile will take you.
A Winning Smile, Sooner
We think you will find Invisalign to be an excellent alternative to traditional orthodontic treatment, since it is far more comfortable than metal braces, and it generally achieves the results you want – a winning smile – in a shorter amount of time.
Your teeth will benefit since they can be easily cleaned throughout treatment, you will benefit from the increased comfort factor, and cosmetically, you cannot beat the transparent aligners, since they, unlike metal braces, are difficult for other people to detect on your teeth.
Get Invisalign In Danville
If you are interested in Invisalign in Danville, please do not hesitate to contact Pro Smile Dental Care for additional information. We will be happy to answer any orthodontist and orthodontic questions that you may have.